Cucumber sandwiches might seem like a no-brainer, but little tweaks here and there can turn out very different results. The combination of this vegetable with different ingredients and particularly with different condiments can either increase of disguise its flavor without ever losing its fresh touch. Try out these recipes and find out for yourself the many personalities of cucumber sandwiches.
10 recipes of cucumber sandwiches to freshen up your snacks
Cream cheese is the cucumber's companion by default when it comes to sandwiches. However, the two only serve as the basis for different flavors. Herbs and condiments can go a long away on their own to enhance or simply change the flavor of a wedge.
Condiments aren't the only thing to play a role in creating different sandwiches. The bread itself can infer in the final flavor depending on which cereals its prepared with, its consistency and if the cereals and seeds are mashed or not
Try out this recipe to find how the type of bread can make a difference and to learn how to make your own cream cheese with green onion.
Cucumber goes well with cream cheese but dare to try other tastes by combining it with butter instead.
This fat doesn't impact as much on the final result as its dairy counterpart, but that's actually an advantage. Its soft flavor lets the lemon rind shine in the sandwich enhancing its freshness and giving it a slight bitter touch that only makes it more interesting to the palate.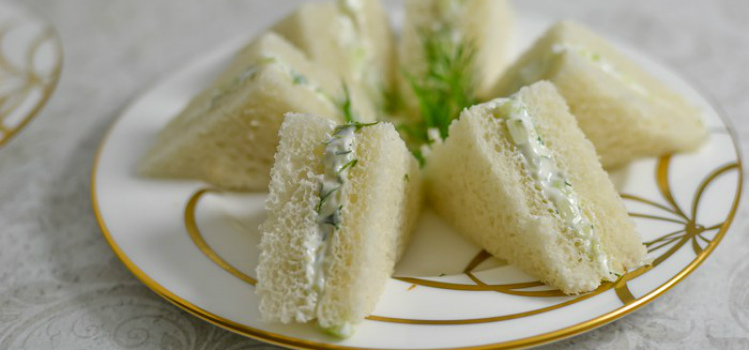 Why choose between mayo or cream cheese when you can have them both? Prepare some tasty cucumber sandwiches by combining mayonnaise and cheese for a slightly sweet and salty cream.
You may be surprised to find this mixture actually enhances the cucumber flavor and freshness.
Feeling like trying something new? Then leave the more typical English cucumber sandwiches aside and try out the Scandinavian version.
There won't be any cream cheese in sight, but you can rejoice in the tastier and more consistent flavors of hard boiled eggs, fresh onion and, most importantly, nicely cooked shrimps. All infused with the fresh touch of cucumber to make it even more perfect.
Are you a fan of the soft but present taste of avocado? Then you have to try out this sandwich.
The recipe couldn't be any simpler and it only takes 4 ingredients, counting with the bread, but the result is perfect. The avocado's creamy texture gets easily infused with the slightly salty flavor of the cream cheese. And with the crunchiness of cucumber to top it, it's certainly proof that sometimes less is more.
Being on a diet is no excuse not to refill your energies and freshen up with a nice and tasty cucumber sandwich.
So what, you can't eat bread? Just change this ingredient with the cucumber itself and you'll have a juicy and crunchy base where to add your favorite ingredients. If you're looking to shed some pounds, try out this low-calorie recipe with turkey breast. It will surprise you that something as tasty can be healthy.
Who said cucumber sandwich are too basic? All you have to do is check out this recipe from food blogger Sara McCleary. The addition of smoked salmon combined with red onion is bound to get anyone's attention, but it's the clever way to add the cucumber to the sandwich that definitely makes it stand out.
By laying the thin slices and the cream cheese on the outside to cover up the bread surfice, freshness and crunchiness reach the taste buds just before the salty and intense taste of the salmon with the onion. This ends up balancing all the flavors perfectly. Besides, these sandwiches just look luxurious.
Still on the topic of fancy sandwiches, this is another recipe you have to try if you want to shine with your gourmet looking appetizers.
The salmon roe stands out immediately with its powerful orange and pungent flavor. Nevertheless, the secret to this wedge is in the blended flavor of the cucumber with the crab meat. Be advised, though, the tasty result will be depending on a large scale on the quality and flavor of the crab.
Looking for something that feels both fresh and light for an appetizer or has a small meal? Try out this recipe.
With just a bit of butter instead of the cheese cream spread, it feels much less heavy that other recipes. Besides, both the radish and the cucumber are juicy and crunchy vegetables, which just add to the fresh touch they give to.
Tweak the traditional British cucumber sandwich around and add it an Asian flavor to surprise both your palate and your guests'. The onion, the red pepper and the shredded carrots already bring big differences to this classic, but to give it the Asian touch both the soy and the Sriracha sauces couldn't be forgotten. If you're a fan of Asian cuisine, you're going to just love this recipe.
Did any of these recipes inspire you to prepare refreshing sandwiches with cucumber? It's not only about its soft and cool taste, cucumber also has several benefits for health and even beauty. So, not only you will be enjoying deep and fresh flavors with these recipes, you will also be treating yourself too.
If you're curious about other ways to eat this vegetable on hot days, check out how to make a salad of tuna and veggies in a cucumber boat on the following video.