If you crave a nice weekend meal, then look no further than these chicken dinner recipes that are guaranteed to satisfy your cravings. You can get the recipe at Crunchy Creamy Sweet. The nice thing about using chicken dinner recipes is you can concoct a nice weeknight meal with just a few ingredients that along with some salt and pepper you can create a dish that will prove to be delicious and filling.
Here is a look at some sumptuous and delicious chicken dinner recipes.
Delicious chicken dinner recipes
Moroccan roasted chicken
This wonderful chicken dinner recipe will give your taste buds a chance to enjoy warm and inviting spices used to create a chicken and vegetable dish that is second to none. It won't take more than an hour to prepare this dish and after a bit of chopping and stirring, you will have a dish that you will relish not only because it is from a far-off place, but also because it happens to be very appropriate for a quick meal.
Get the recipe at Heb
Bruschetta chicken roulade
All you need is half an hour and, at that time, you can prepare one of the most delicious chicken dishes from Italy. People usually use chicken thighs that along with fresh tomatoes and basil as well as mozzarella will give you something to savor on a weekend when you want to relax and enjoy a dish. Best eaten with a glass of red wine and some pasta.
Get the recipe at Heb
Asian chicken over rice
Another wonderful weekend dish, the Asian Chicken over rice can easily be prepared with equal preparation and cooking time. It is one of the more popular Asian takeout dishes that will delight your taste buds. All you need to do is sauté some chicken and vegetables with some peanut sauce. Place the chicken and vegetables on top of rice and you have an instant classic chicken dinner dish.
Get the recipe at Heb
Lime grilled chicken breast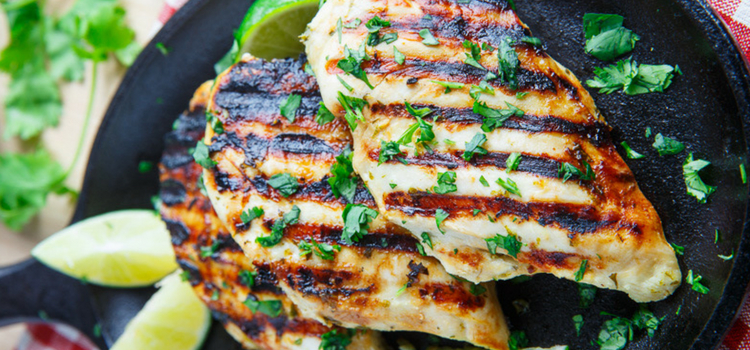 This is an excellent homemade dish that works best for fajitas or you can also throw in a salad to make for a delightful weekend dish. If you add some extra chicken breasts and if you grill the dish, you can concoct an easy-to-prepare dish in next to no time. The nice thing about this particular chicken dinner recipe is it is loaded with proteins and is the perfect snack for the afternoon meal.
Get the recipe at Heb
Chicken fried rice
This dish probably does not need an introduction because it is everybody's favorite dish. Created with brown rice and low-sodium soy sauce, it is the perfect alternative to traditional rice.
Get the recipe at Heb
Sheet pan chicken and veggies
This is one of those dishes that you would love on your weekend. It is a zesty meal that is great in every sense. In fact, it is an easy grilling recipe that would make the perfect meal this fourth of July.
Get the recipe at The Lean Green Bean 
Pecan crust baked thighs of the chicken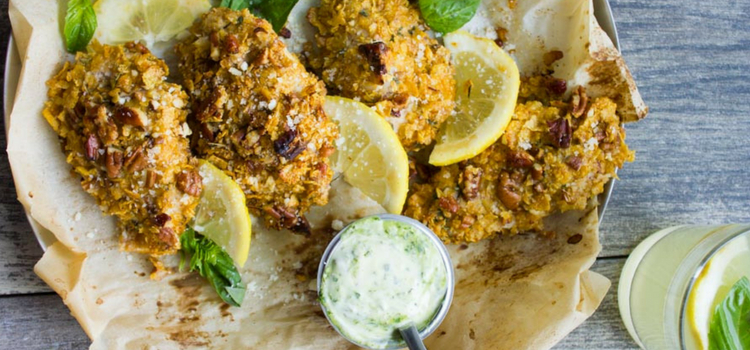 This wonderful chicken dinner recipe is worth checking out if only because it does not make use of traditional breadcrumbs and instead uses pecans. The end result is this dish is lower in carbohydrates and at the same time it is full of proteins. This extremely delicious dish is perfect because it can be cooked quickly and without much fuss or bother.
Get the recipe at Two Purple Figs
Thirty-minute creamy mushroom and leaky chicken breasts
When you think about it, most creamy chicken dishes are heavy and hard on the stomach. However, with this chicken dinner recipe, you can cook up something that is loaded with fresh cracked pepper and which also contains colorful chopped leaks. Overall, you won't find a more delicious chicken dish than this one. This wonderful chicken dish can be cooked with just one pan and within thirty minutes you can have a chicken breast dinner that is wholesome as well as appetizing.
Get the recipe at Foodie Crush
Spiced rubbed BBQ chicken with pineapple salsa
If you are nutrition-conscious, then this is the perfect chicken dinner recipe for you. Many people adore pizzas with pineapples and if you are one of them, then you simply won't be able to resist this dish which has pineapple salsa toppings on barbeque chicken. This is one delicious chicken dinner dish that is perfect for men and especially husbands. It would make the perfect dish this Father's Day and on any other day as well. If you want a chicken dish that is grilled in a different manner, then look no further than this dish.
Get the recipe at Nutritionist In The Kitch
Creamy swiss chicken bake
The nice thing about this chicken dinner recipe is it uses plenty of cream that along with topping of herby breadcrumbs delivers the perfect taste to suit everyone. It contains just five ingredients and best of all, it does not require any clean-up. This easy chicken dinner recipe is bound to be a success no matter what the occasion is. The recipe is creamy as well as cheesy and more importantly, it is herby as well as very tasty. The perfect treat for your weekend needs.
Get the recipe at The Cookie Rookie