Women tend to be more careful about their beauty than men. Feeling attractive and beautiful is part of their nature. But over time, medical care is different and personalized for each woman. The problem is that most products can be expensive, but we have some unexpected yet effective beauty hacks that can help you keep your gorgeous looks alive — even after the much dreaded 40 age! Want to know more about these amazing hacks? Read ahead in the article to find out all about them.
Beauty Trick # 1 — For longer and thicker eyelashes
As you age, you not only lose hair on the head but hair growth on other parts of your body also becomes slower. This is because women experience great hormonal shifts in the body as they age. Your eyelashes are also hair and hence, affected by age. But we have a beauty trick that can give you longer and thicker eyelashes within days.
Take a bottle of old mascara bottle or any other thin tube-bottle and wash it.
Put some aloe vera oil, castor oil, and almond oil in the bottle and shake well.
You can also add Vitamin E liquid to the mix.
Use a mascara application brush to apply the mixture to your bed every night before you go to bed.
Women start to have rough and dry skin as they age. The bad skin also makes waxing hard. So using artificial wax on the skin for hair removal can be a difficult task. You have an alternate natural wax that you can create to get smooth and soft skin easily.
Take freshly squeezed lemon juice, around half to 1 lemon.
Add 5 to 6 large spoons of white sugar granules.
Heat the mixture on the stove and use it as natural wax. (watch out for the temperature)
Beauty Trick # 3 — For cleaner hair
Are you tired of shampooing your hair every single day? You must be because not only is it a tedious thing to do but it also makes your hair super weak and thin. There are many beauty hacks that you can follow this purpose and one of the tricks is to add raw sea salt to your shampoo bottle. If you think this trick is strange you should check this article about strange beauty hacks! You will be amazed.
Beauty Trick # 4 — For dark eye bags
Juggling all the house chores, family responsibilities and career ambitions can make your eyes surrounded by dark circles. The best beauty hacks for dark eye circles is to use a little coffee and coconut oil mask and apply it on the eyes as an eye mask thrice a week.
Beauty Trick # 5 — For stronger nails
If your nails have become weak with age and loss of calcium, the best way to grow them stronger and longer is to use garlic on them. Rub garlic on your nails for stronger nails.
Beauty Trick # 6 — For blackheads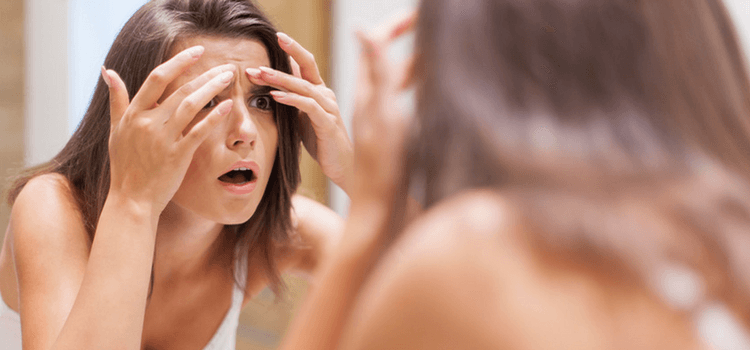 Black and whiteheads are a common problem, but they become stubborn when you age. A natural trick to remove blackheads is to rub honey and flour on the blackheads and then use a cotton pad with warm water to remove them.
Beauty Trick # 7 — For lasting lip color
Chapped and dry lips are common as you age. This makes it harder for the lip color to stay on. But an easy way to make the lip color last longer is to dab a little compact powder on the lips before you apply lipstick over it.
Important note: Always make a small sample and try it on a small area of your body. Remember that the ingredients should be avoided by those who have some kind of allergy to any of them. In case of an adverse reaction, seek medical advice.